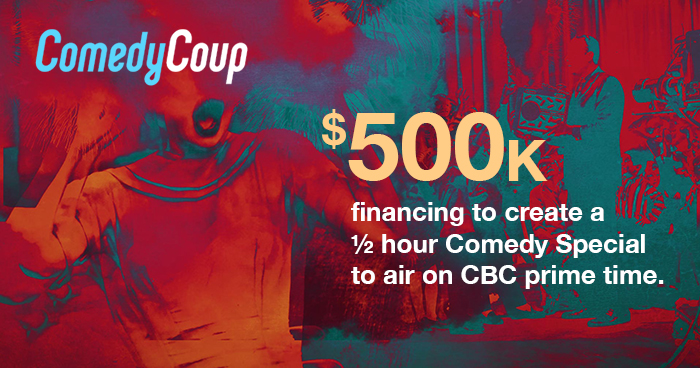 WHAT IS IT
A co-venture between CineCoup and CBC, ComedyCoup adapted dimeRocker's original Film Accelerator technology for television production. ComedyCoup allows comedy creators to develop, market and pitch half-hour television concepts.
Teams apply with a teaser video for their concept then advance through a gamified selection funnel designed to develop their projects and build fan support on the CBC ComedyCoup social web platform. One project is selected for $500,000 in production financing and a thirty-minute slot during CBC's Prime Time schedule for their comedy special. Five projects are optioned for development.
The inaugural season of ComedyCoup resulted in a greenlight for Vancouver based HumanTown and a CBC development deal for the Montréal team Dépflies.
---
PROJECT HIGHLIGHTS
OF NOTE:

Designed a complete overhaul of the userflow which resulted in a 30% rise in site usability satisfaction
Interest from financiers was so wide spread that we were able to give away two $1M prizes

PAGEVIEWS: 2,000,000+
USERS: 500,000
REGISTERED USERS: 25,000+
HOURS OF VIDEOS WATCHED: 10,000
VIDEOS VIEWED: 500,000
AVERAGE DURATION: 4:35
BOUNCE RATE: 50%
---
MY ROLE
I performed the same duties as CineCoup found above. Direct reporting was done to Michelle Daly (Senior Director of Comedy, CBC) and Bruce Hills (COO at Just for Laughs). Many of the tasks performed on this project are similar to CineCoup, found HERE
Go to site